951 IOX
Input /Output terminal
---
Tooling machines and technological facilities kept under your complete control !
---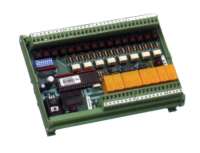 951 IOX is a NET92 terminal which allows you to collect signals from digital sensors and switch electrically-controlled devices on/off. It supports 16 input and 8 output lines with relays.
Each input has its own status indicator LED and counter. The counter counts down each time a positive charge is applied to the input. The NET92 host can obtain the status of the counters at any time. When a counter reaches zero IOX generates a message for the host computer, the counters are then reloaded with a pre-set user-defined value and the countdown process begins again. It is also possible to monitor the status of the input lines from the host.
Each output line has a timer which allows you to close the relay for a set time (possible values: 0.1 - 25.5 seconds) every 0.1 seconds. You can also keep the relay permanently open or closed.
In a NET92 network it is possible to connect up to 254 IOX in a single plant, giving you up to 4080 inputs and 2040 outputs.
IOX can be mounted in any industrial casing equipped with an OMEGA guide .
951.006.20 I/O Module -16 digital inputs -8 relays -NET92 only -extractable clamps
Input lines 16 lines optocoupled +status LEDs


Nominal voltage 24Vdc

Input impedance about 3KOhm

ON voltage level >5V

MAX input voltage 30Vdc


Output lines 8 lines with relays


Relay output N.O.2A @30 Vdc

Mechanical life min.10 ^7 operations

Electrical life min.2 x 10 ^5 operations at rated load

Breakdown voltage 1500 Vrms


Communication port RS485 with NET92 protocol

Power supply 12 to 15Vdc,350mA (max)

Working temperature 0 °C a +50 °C

Storage temperature -20 °C to +70 °C

Humidity 0 to 95%non condensing

Dimensions 175x105x65 mm (W x H x D)

Weight 280 g