The TRAX+ family: real time batch
and off-line capabilities
P26 TRAX+P
Programmable transaction terminal
---
Compact size with the software capabilities of PROX+
---
TRAX+P is a data collection terminal designed to satisfy your need to monitor the activity of operating machinery and production personnel, as well as provide you with attendance recording and access control capabilities in offices, factories, hospitals and work sites.
In general it can be used wherever data collection is important.
The tough ABS casing offers high protection against the environment and makes it possible to use TRAX+P in such critical environments as slaughter houses and fisheries.

Best price/performance ratio in the market.

Compact design appreciated when space saving is important such as on a workbench or in a reception area.

Wall/pole or table mounting, thanks to reversible casing top.

Robust, splash/dust proof casing, IP65 (except for barcode version). Not inflammable casing, ABS-V0. Connector cover and wall support are in alluminium.

Equipped with a membrane type keypad, dust and splash proof, guaranteed for 2 million operations.

Mounting, maintaining and moving the terminal is made easy thanks to the special bracket supplied with the terminal and thanks to its extractable connector block.

Internal magnetic, barcode or proximity (RF) card readers.

32 KB buffered RAM memory.

Multitasking operating system and file system, identical to that found on the PROX+ terminals. Off-line, autonomous mode using its internal procedures (supplied by your Systems Integrator) and memorizing transactions data and associated times in a 32 KB buffered RAM.

On-line real time operation under the control of the host computer. If the host does not reply within a user-defined time limit the terminal automatically goes into off-line mode.

Automatic shut-down in the event of a power supply failure. The terminal can retain its data for several years. An optional emergency backup battery kit is available which ensures 4 hours function time.

Ethernet connectivity

First in the world in its category, EtherTRAX+P is the newest addition to the TRAX+ family.
EtherTRAX+P meets the growing demand for easy interfacing to existing LAN's or WAN's which is emerging from the industrial sector and in general from all the potential users of TRAX+P.
Without doubt the most cost-effective and pratical solution.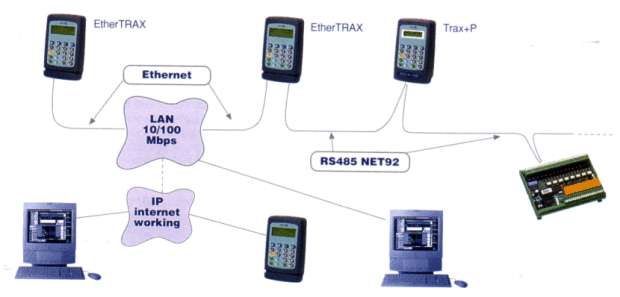 Note
Extending the NET92 sub-network, using EtherTRAX+ internal Ethernet/N92 concentrator, is a possibility but the sistematic use of this capability is out of the terminal scope.
A secondary TRAX+P can be usually connected, when a neighbor terminal is needed, saving an Ethernet line and hub port.
Indeed, safety considerations must be taken in industrial environments. Always consider the use of a PSLD/3 as repeater whenever electrical or EMC safety is an issue, when
connecting additional Trax or IOX or other TMC terminals to the RS485 branch exiting form EtherTRAX+ (EtherTRAX+ always needs a dedicated power supply).

Programming at Different Levels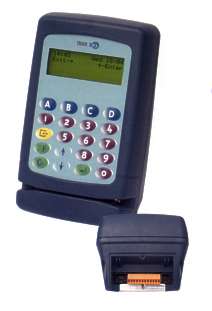 TRAX+P contains the standard Attendance Recording/Access Control firmware found in PROX which allows you to allocate description codes for different transactions, record the attendance of a non card-holder under the authorisation of another person who is a card-holder, to scan all the transactions of a single user and to display messages and data prepared by the controlling computer.
You can define a vast variety of interactive, events driven data collection transactions: the correctness of data can be checked by means of prompts to the user and data validation tables. The user can make choices from an interactive menu, the terminal will make a print-out or activate a relay on the basis of the data introduced, and you can include the value of the counter on the optoinsulated input line.
Each transaction can be controlled by a procedure previously loaded onto the terminal and activated using the function keys. You can move from one procedure to another on the basis of the data collected from the keypad, or from the barcode, magnetic or proximity card readers. The procedures can also be activated at a set time on a set day of the week.
The management of data, procedures, and configuration parameters, either from a remote computer or via the keypad, is extremely flexible thanks to the memory based on a file system and its powerful set of shell commands, accessible via RS485/NET92.

Software Support:

UTILITIES - COMMTEST and CTW32 to test the communications and functions of PROX+ in NET92 or RS232; PROX-LINK to manage the format of the archives downloaded from TRAX+P.; PROCX to translate the procedures loaded onto TRAX+P.
DLL - (Proxc.dll / Proxdemo32.exe) For fast development of off-line applications. Demo program for evaluation and testing.
TRAXiT - (TRAXiT32.exe) Complete application for remote configuration of TMC terminals in different installation types, and for batch communication sessions.
For EtherTRAX+P only:
Ethertest - (Ether32.exe) For immediate remote configuration of EtherTRAX+ IP parameters, and terminal testing.
OCX - (Etherctrl.ocx / EtherCtlTest.exe ) For developing your on-line/ off-line applications. Demo program for evaluation and testing. ( See Software Support for more details)
922 TRAX+
Real time transaction terminal
---
It is ideal and it is possible !
One person... one terminal !
---
TRAX Leads the Production of the Leaders
TRAX was first installed in one of the manufacturing plants of the prestigious MaxMara Fashion Group, the Manifattura di San Maurizio, which specifically produces articles which have already been ordered. The need to have real time data on the progress of different orders is what originally motivated MaxMara to install 220 TRAX terminals with optical pens in this plant.
The terminals gather data concerning task times, units produced, causes of production delay, progress of batches, etc.. The operator can obtain real time data on his/her efficiency in the current task as well as other operating data. The supervisor can follow production in all its phases moment by moment and thereby supply the sales department with up to date information which becomes essential for accurate planning of the company's activities.
The flexibility, versatility and low cost of TRAX have meant that a large number of companies have adopted it in their production control applications: companies in a huge variety of sectors, from clothing to mechanical engineering, from the furniture to the graphics industries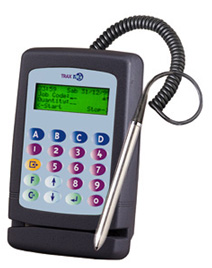 Designed for on-line data collection systems based on NET92, the TRAX+ is the interface between the operator and the information system. In a production control system, for example, it allows you to monitor job progress, production efficiency, production line rejects, tracking and quality. The on-line controller validates, associates a time, elaborates and memorizes data and sends messages to the terminal's display, giving the operator instructions for that particular phase of production or requesting other data. In general the controller PC carries out a variety of operations, depending on the application software which must be developed for the specific requirements of the application.
When equipped with a card reader it can be used for voting, to register customers, and to make and receive electronic payments.
In general it can be used wherever data collection is important.
TRAX+ can work in on-line mode only.

In conjunction with an IOX unit it can acquire data from a variety of ON/OFF sensors and integrate these with those entered by the operator. It can also pilot devices.

Real time: T<1 sec/transaction with 254 concurrent transactions.

A hand extractable screw connector block makes maintenance easy and allows you to connect or disconnect the terminals at any time and in any position on the network.

92Y.0XZ.WW where:


Y: 2=TRAX+, 6=TRAX+P

X: version: 3=TRAX+P; 4= EtherTRAX+P

Z: display: 2=2x16, 4=4x20

WW: reader: 20=no, 11=magnetic TK1, 12=magnetic TK2, 13=magneticTK3, 18=optical IR, 17=RF

| | | |
| --- | --- | --- |
| 922.032.12 | 922.034.12 | 926.032.12 |
| 922.032.17 | 922.034.17 | 926.032.17 |
| 922.032.18 | 922.034.18 | 926.032.18 |
| 922.032.20 | 922.034.20 | 926.032.20 |
| 926.034.12 | 926.042.12 | 926.044.12 |
| 926.034.17 | 926.042.17 | 926.044.17 |
| 926.034.18 | 926.042.18 | 926.044.18 |
| 926.034.20 | 926.042.20 | 926.044.20 |
Accessories:
980.002.00 PS600 Power supply adapter: 220 Vac to 12 Vdc@ 600 mA,

980.003.00 PS1000 Power supply adapter: 220 Vac to 12 Vdc

980.004.00 PS1400 Power supply adapter: 220Vac to 12Vdc@ 1,4A with encased wall plug (European two round pins10A)

984.500.00 CL232 RS232-Current Loop adapter - self-powered- 1200 to 4800 bps

980.010.00 Emergency battery Kit for # 926.0xx.yy

901.142.00 CCL-142 Cleaning cards - 50 pieces package.
TRAX+P
EtherTRAX+P
TRAX+

Keypad:

membrane type, dust and splash proof, 20 keys with tactile action, guaranted for 2 million operations.

Display:

backlit, superTwist LCD, 2 * 16 nebo 4*20 charakters

Internal reader:

magnetic ISO track 2; I. R. barcode, or proximity 125 KHz, 64 bitů - read only (see RFID). Available without reader on request.

Auxiliary reader:

RJ11 connector for external barcode reader (pens, CCD, laser, barcode slot readers)

Barcode decoder :
EAN, I2/5, C39, C128, EAN 128

Beeper:

magnetic, 2 tones, software driven
Communication ports:

on an extractable screw-connector block and RJ45 in parallel for NET92 connection.

RS232Current Loop: 1200, 2400 or 4800 bd (*)

RS485 (net92): slave of TMC NET92 network

on an extractable screw-connector block

Ethernet: 10BaseT+UDP/IP ("datagram" part of TCP/IP family)

RS485(NET92): RS485 interface can be used for "gateway" connection of other NET92 terminals to PC via Ethernet (suggested max. 4 terminals on 20 mt line)

RS232Current Loop:1200, 2400 or 4800 bd

on an extractable screw-connector block and RJ45 in parallel for NET92 connection.

RS232Current Loop: 2400 or 4800 bd


RS485 (net92): slave of TMC NET92 network

Input/Output ports:

on an extractable screw-connector block

Input: 2 digital (one of them optocoupled)
Output: 2 (**)

Memory:

32 KB RAM, buffered
-

Power Supply:

8 - 30 Vdc
10 - 15 Vdc, 180mA v 12 V

8 - 30 Vdc

Working temperature:

0 to 50 ° C

Storage temperature:

-20 to +70 °C

Humidity:

0 - 95 % non condensing (barcode version)
Casing:
ABS-V0, IP65 (except for barcode version)
Dimensions:
120*200*100 mm (W*H*D)
Weight:
700 g
740 g
700 g
(*) Requires the Current Loop / RS232 adapter, TMC cod. 984, which enables connection to the 25-pin RS232 serial port of a peripheral device. With a TRAX+P configured for
connection to the RS232 port of a computer, the IN2 digital input and OUT2 digital output are no longer available.
(**) One of the two outputs is equipped with a relay with a NO and NC contact at 2 A @30 Vdc. The second output (with no relay) functions as an alternative to a serial connection and therefore with a TRAX+ where both digital outputs are connected the RS232 connection to a computer is no longer available.
---
IVAR a.s., authorized TMC reseller in CR
address: Náměstí 5. května 3, 290 01 Poděbrady
phone: (+420) 0324 611018, 610181; fax: (+420) (0)324 610505
e-mail:
ivar@ivar.cz